Government Documents
Government Structure
Tribal Council
Principal Chief
Lora Ann Chaisson
Ms. Chaisson is a current resident of Point aux Chenes, LA, and the daughter of Theo Chaisson and the late Betty Sanders Chaisson.  She is the UHN's National Congress of American Indians (NCAI) Alternate Delegate as well as the Southeast Regional Alternate Vice President to the NCAI Executive Committee.  She is also a current member of the United States Department of Labor Native American Employment and Training Council as well as a Board Member and Treasurer for the American Indian Alaska Native Tourism Association.  Locally, she is an appointee to the Lafourche, Assumption, and Terrebonne (LAT) Workforce Board.
Chaisson is employed as a Vice President of Tribal Solutions Group. Her work with Tribal Solutions Group encompasses a variety of divisions with solution based services in areas such as education, gaming, medical, and broadband/communications specifically for tribal nations, entities, and enterprises.  Previously, she worked with the Inter-Tribal Council of Louisiana and the Institute for Indian Development within both the domestic violence and the workforce development programs.  Lora is also an alumnus of the American Indian Opportunity Ambassador Program – a national organization providing capacity building and leadership development for Native American professionals looking to grow their communities.
During her free time Chaisson enjoys teaching friends and family traditional Houma Indian basket-weaving, jewelry-making, and cooking.  She has exhibited her work at various venues, but is long standing at the New Orleans and Jazz Heritage Festival for 39 fests.
To contact Chief Chaisson directly, click here.
District 1
Adam Crappel
District 1:  All of St. Mary Parish
Mr. Adam Crappel began serving on the United Houma Nation Tribal Council in June 2012. On July 11, 2015 Mr. Crappel was elected Vice Principal Chief.  He is the owner and President of A&E Office Machines, Inc. based in Morgan City, Louisiana.  He represents District 1, which encompasses all of St. Mary Parish.
To contact Adam Crappel by email, click here.
District 2
Clarice Friloux
District 2: Terrebonne Parish – Bourg/Bayou Blue (70343), Chauvin (70344), and Montegut/Point aux Chene/Isle de Jean Charles (70377)
To contact the Clarice Friloux by email, click here.
C: (985)-856-2025
District 3
Janzen M.N. Verdin 
District 3: Terrebonne Parish – Theriot/Lower Dularge (70397) and Dulac (70353)
Janzen originally grew up in the Bourg area, and now resides in Dulac, Louisiana. During his time in the council, he hopes to help revive the Tribe's radio station, and assist in economic development. He hopes to do this so that the tribe can fund things, such as youth programs, cultural preservation, and healthcare and housing assistance for tribal members. In his free time, he likes to spend time with family and friends, hunt, fish, travel, listen and play music. Some of his traditional talents include drumming, singing, and beading.
He has a B.A. in Mass Communication with experience in radio promotions, marketing, video production, music production, photography, web design, and social media management. He currently owns and operates a swimming pool service company called Verdin's Pool Service, LLC.
Janzen served on the UHN PowWow committee from 2016-2019, previously worked for the Inter-Tribal Council under the Workforce Innovation Fund grant as a Workforce Development Specialist, and as a Multi-Media Specialists from 2016-19.
To contact Janzen Verdin by email click here.
C: (985) 860-6278
District 4
Jimmy Verret Jr. 
District 4: Terrebonne Parish – The area of Houma (70363) south of Thompson Road along Hwy. 57 (Grand Caillou Road) and Hwy. 315 (Bayou Dularge Road) south of the Intracoastal Canal
Originally from Theriot, LA, Jimmy Verret Jr. resides in the Houma (upper Dularge) area. During his time on council, he hopes to advance the tribe and betterment of its people.  On his free time, he likes to fish, hunt, and go to sporting events. Some of his skills and interest include carpentry and construction, taught by his father and grandfather. Jimmy, his brother, and his father own a construction company called K5 Renovations LLC. He is a full time employee for the Terrebonne Parish Sheriff's office, where he works on water patrol and holds the rank of Sergeant.
Some of his community activities include being a board member for the Dularge Volunteer Fire Department and coaching on the Hunters 10U Softball team.
To contact Jimmy Verret by email, click here.
C: (985) 852-6026
District 5
District 5: Terrebonne Parish – The area of Houma (70363) north of Thompson Road along Hwy. 57 (Grand Caillou Road) and Hwy. 315 (Bayou Dularge Road) north of the Intracoastal Canal including all of East Houma, Village East, etc.
Bette Billiot was born and raised in Dulac, LA, and currently resides in East Houma, of Terrebonne Parish. She is the daughter of Sandra Francis and the late Jerry Billiot, and she has three sons: Jacy, Gabriel, and Colby. Bette is currently working for Sierra Club as a Field Organizer, and Housing Louisiana as a part time Community Organizer. She is also a co-facilitator of a Bioneers Intercultural Conversations tribal youth group, and she advocates on climate and industry issues affecting Louisiana and other Gulf Coast communities. Bette joined the Tribal Council in hopes of bridging the gap of communication between her district and the Tribe, and she hopes to gain more community input and youth participation. She believes one must lead by example and that involvement is key.  Bette's passion is driven by wanting to make her children proud, the ability to travel, connecting with community, sharing her culture, educating the youth and being a voice for those now who were never asked the question back then, "How will this affect you?"
To contact Bette Billiot by email, click here.
C: 985-688-6122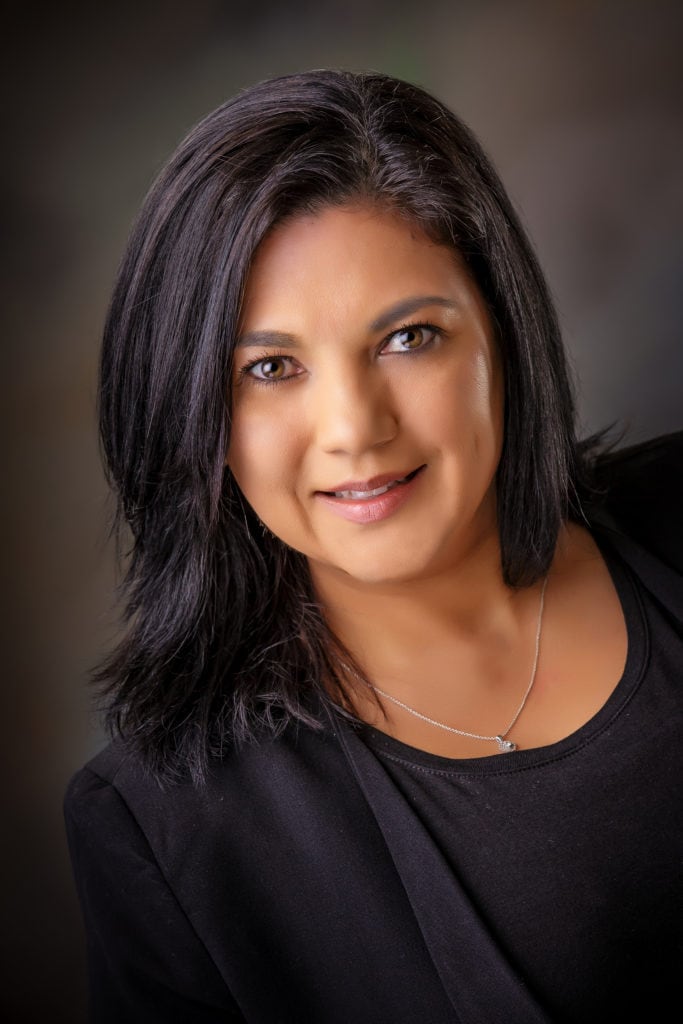 District 6
Roxanna Francis Foret
District 6: Terrebonne Parish – Houma (70364 & 70360), Gibson (70356), Gray (70359) and Schriever (70395)
Roxanna Foret, originally from Dulac, now resides in the Houma area. During her time on council, she would like the tribal roll to open in order for Houma Indians to obtain a tribal roll number. She would also like the tribe to become federally recognized. Currently, Roxanna is planning on organizing the Inaugural Native Pride 5k Run. She hopes that UHN has a building and grounds to unite and bond in cultural activities.
Roxanna teaches social studies and science in the Lafourche Parish School District. Additionally, she received her bachelor's degree from Nicholls State University. In her free time, she enjoys traveling with her family, creating videos, art, drama, theater, film, and has interest in the Mississippi River. Some traditional talents include palmetto basket weaving, fringe shawls, and making baby moccasins. She is on the Commission on Human Rights District #1 and the Camp Bayou Pride Director, TRPD #4.
To contact Roxanna Francis Foret by email, click here.
C: (985) 274-8586
District 7
Jacintha Duthu
District 7: All of Plaquemines and St. Bernard Parishes, Jefferson Parish – Gretna (70053-70056)
Jacintha F. Duthu is from Houma, but currently resides in Terry Town. Her goal while serving on the Tribal Council is to gain the trust of the people that reside in her district in order to meet their needs and greatly impact their lives in a positive manner. Mrs. Duthu is experienced in management and property management as well as interested in legislature involvement. In her free time, she likes to read, cook, bake, and paint. She is also involved in various community activities, such as community Christmas boxes, a summer feeding program, and assists in adult life skills help assessments.
To contact Jacintha Duthu, click here.
District 8
Gretchen Billiot Boudreaux
District 8: Jefferson Parish – Marrero (70073, 70072), Barataria (70036), Lafitte (70067) and Harvey (70058-70059)
Gretchen currently resides in Marrero, LA. During her time on council, she hopes for the tribe to become federally recognized and to work with the youth. Her traditional talent is needlepoint crafting. Some of her interests include accounting, computer knowledge, and working for summer camps.
To contact Gretchen Billiot Boudreaux, click here.
District 9
NOW VACANT
District 9: Jefferson Parish – Metairie (70001-70006), Kenner (70062-70065), Harahan (70123), Jefferson (70121) and Waggaman/Westwego/Bridge City/Avondale (70094-96)
District 10
NOW VACANT
District 10: Lafourche/Jefferson Parishes – Grande Isle (70358), Leeville/Golden Meadow (70357), Galliano (70354) and the area of Cut Off (70345) south of the South Lafourche Bridge as divided by East 90th Street along Hwy. 308 and Tarpon Pass between LA 1 and Hwy. 3235
District 11
Dixie Breaux
District 11: Lafourche Parish – The area of Cut Off (70345) north of the South Lafourche Bridge as divided by East 90th Street along Hwy. 308 and Tarpon Pass between LA 1 and Hwy. 3235, Larose (70373), Lockport (70374), Mathews (70375), Gheens (70355), Raceland (70394) and Thibodaux (70301)
Dixie currently resides in Raceland, Louisiana. During her time on council, she hopes to get more programs to bridge the gap between our Elders and our Youth. She would also love to finish the Historical Site Preservation for the Golden Meadow Office and aim towards federal recognition. In her free time, she likes to travel with her two boys, read, write, sew, and create artsy items. Some of her traditional talents include regalia making, beading, and dancing.
Some of her interests include committee involvement, newspaper writing, and youth leadership work. Dixie is also apart of the Indian Education Summer Camps.
Dixie was Jr. Miss UHN from 2001 to 2004. She also works for the Lafourche Parish Indian Ed as needed for camps and cultural events.
To contact Dixie Breaux by email, click here.
C: (985) 414-2039